Art in Ybor City
There aren't many visual art galleries in Ybor City any longer, aside from AIA on 7th and Silver Meteor Gallery (a performing arts space). However, Ybor City used to show some incredible heavy hitting exhibits when Red Letter 1 was on 8th Avenue, and subsequently 15th street. At that time Jeremy Fish, Red Labor, Logan Hicks, Adam 5100, Shawn Barber and Tes One all had exhibits in the space. It's time for another memorable exhibit in Ybor City. Heavy hitting artwork comes back to Ybor on Friday, July 27th, at 6pm.
Legendary Graffiti Artists Come to Ybor
On Friday, July 27th a legendary exhibit comes to Ybor City right on 7th Ave at Burn Rubber Sneaker Boutique. Although it's not an art gallery, Burn Rubber is a sneaker and streetwear boutique that sells top streetwear brands. For some, sneakers are works of art, so the work exhibited at Classics is going to be displayed in familiar territory.

Graffiti & Subculture
There is no doubt that graffiti has influenced modern streetwear. Innovative styles of graffiti evolved in the same neighborhoods in the South Bronx as hip hop. Nobody has documented this more than street photographer Martha Cooper. However, if you don't know of Martha Cooper's work, you can see the evolution of streetwear more loosely through subcultural ties.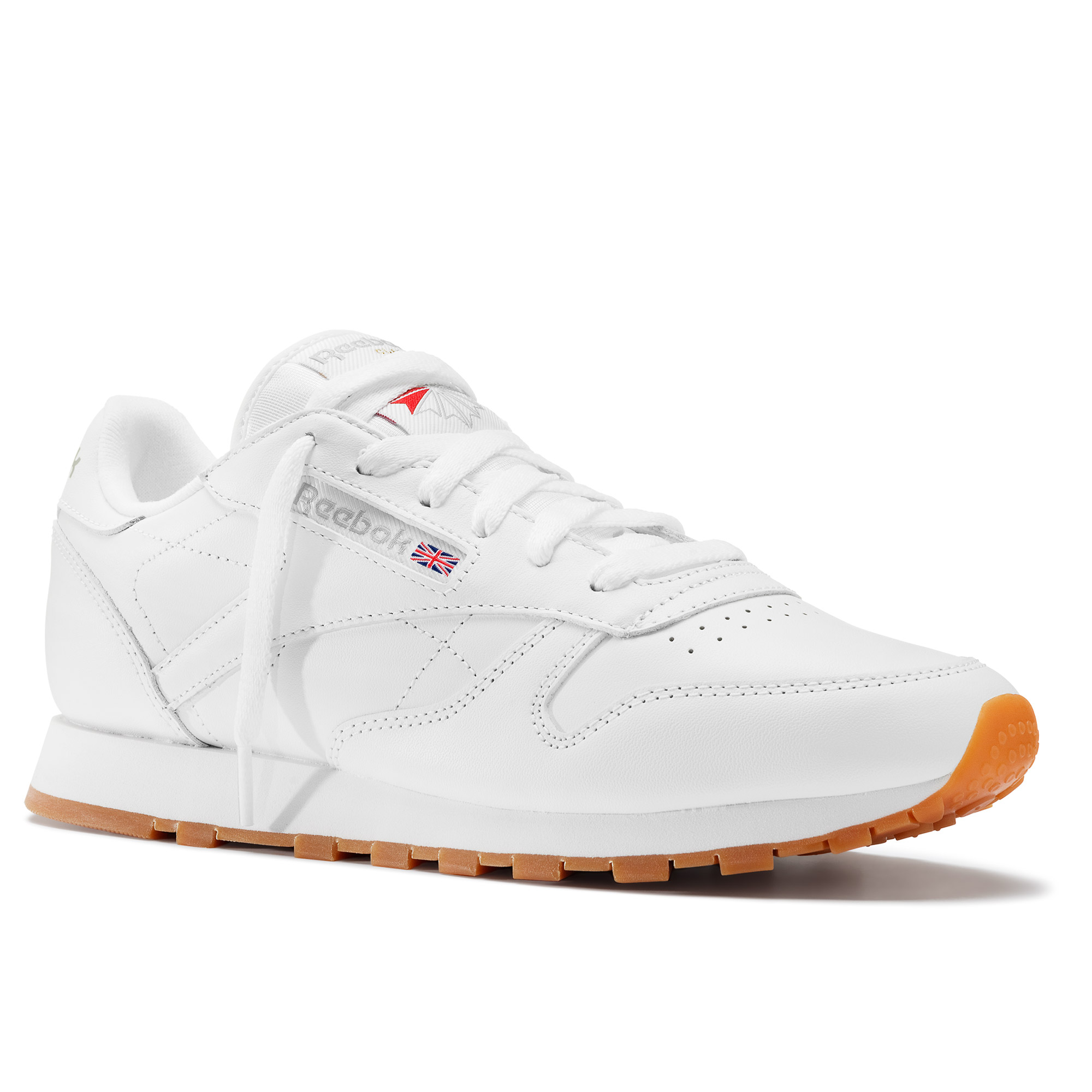 Take the Reebok Classic. Reebok Classic is a modern streetwear brand, the creative director is hip hop producer and rapper Swizz Beatz, so it makes sense that the brand is aligned with the subcultures of contemporary urban lifestyle.
We teamed up with Reebok and Burn Rubber Sneaker Boutique to invite 20 artists to paint on all white Reebok Classics.
The artists in this exhibit are a good mix of legends of graffiti, illustrators and contemporary artists.
Artists in this exhibit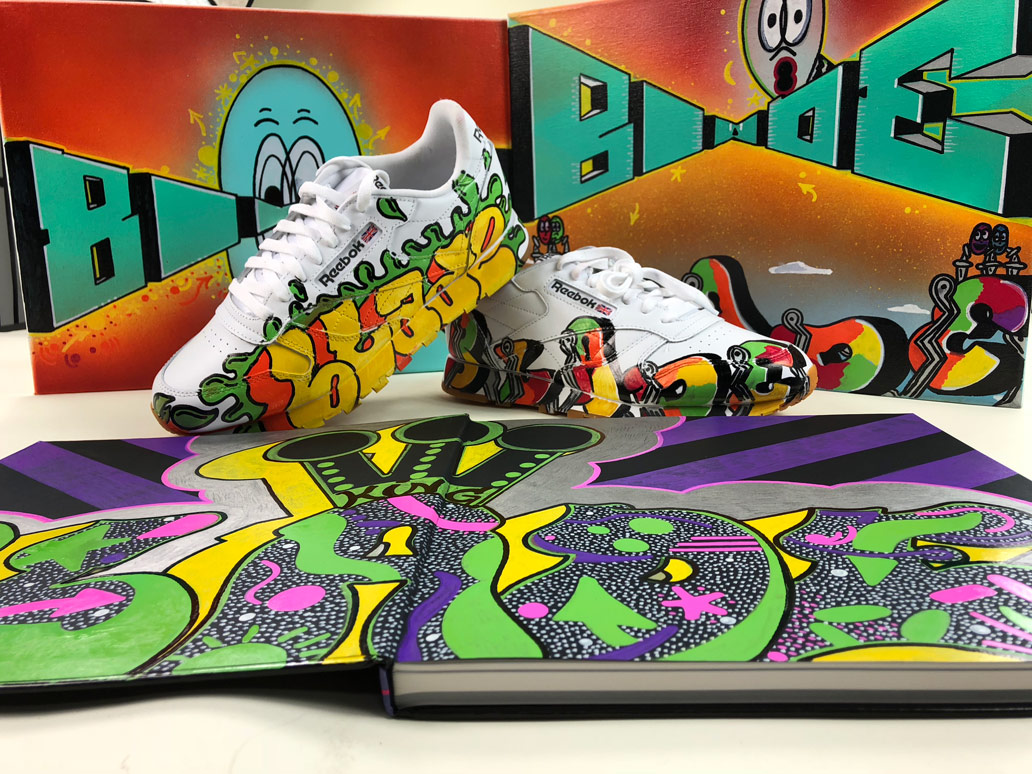 From the South Bronx, we have six graffiti writers who painted from '72 to '84 in the train yards. New York City implemented a war on subway graffiti through the Clean Train Movement after 1985, so there was a sharp decline in full train graffiti after this year.
The six headlining artists in this exhibits are featured in a Complex article titled "The 50 greatest graffiti artists out of NYC". Full circle – this article was written by Chris "Freedom" Pape, who also co-wrote Blade's book "Blade, King of Graffiti" which was edited by Roger Gastman (who is also the curator for Beyond The Streets.) Now that you have some references, here are the artists:

Blade (The Crazy 5 – Bronx, NY)
Cope2 (Kings Destroy – Bronx, NY)
Crash One (Bronx, NY)
Terrible Tkid 170 (Bronx, NY)
Part One (TDS – Bronx, NY)
Lady Pink (Bronx, NY)
GIZ (RIS – Brooklyn, NY)
DEB (San Fransisco)
Atomik (MSG / Seeking Heaven – Miami)
Eric Inkala (RIS – Brooklyn, NY)
Sentrock (Chicago)
Birdcap (Memphis, TN)
The Peach Moon (Tampa, FL)
Michael Mauldin (Atlanta)
Stephen Palladino (Brooklyn, NY)
Cuddly Rigor Mortis (Jackson, NJ)
Nate Dee (Miami)
Jnkyrd (Tampa, FL)
Scumrag (Tampa, FL)
Illsol (Tampa, FL)
Sounds: Wally Clark
Brew: Zydeco Brew Werks
All custom sneakers are going to be displayed on a commemorative stand and available for purchase. A huge thanks to The Etch Pros in Tampa for getting these knocked out.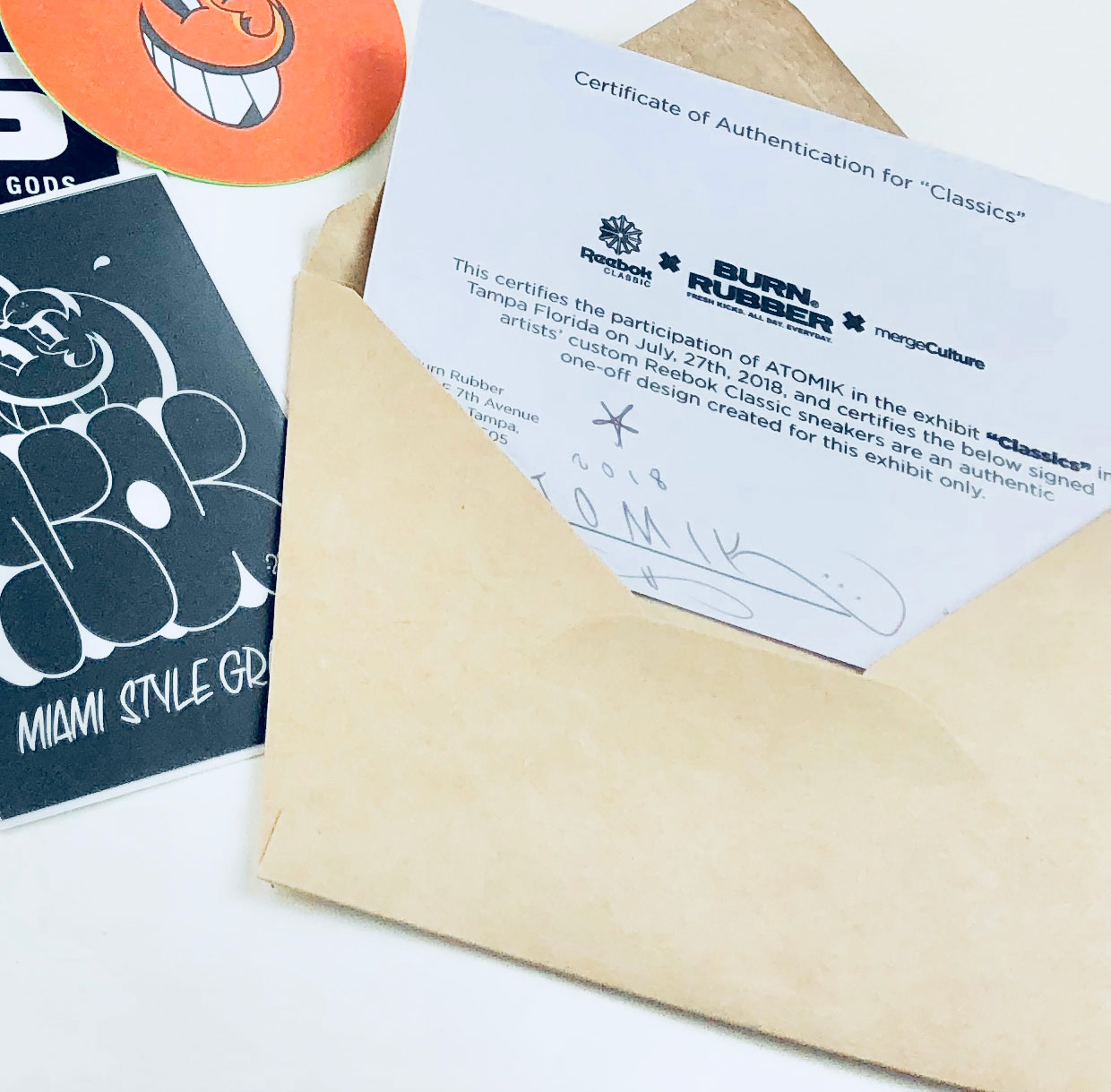 Each pair also comes with a signed certificate of authenticity, plus other available items such as limited edition books and canvases.
Reservations are available, most of these shoes are going to be collectors items, so reserving early is a good idea. Hit us on instagram via DM, or contact the gallery if interested in a pair prior to the opening. We are taking reservations with a deposit until opening night. All pairs are 1 of 1 handmade customs.
A Burn Rubber Spotify Playlist
We've also teamed up with Symphonic Distribution, they are documenting the event, and they created a spotify playlist inspired by classic hip hop.
This is sure to be a memorable exhibit, be sure to clear your calendar for Friday night, July 27th and stop through Burn Rubber to witness history.