If you want to get out and experience the vibrancy of Tampa, here are some great murals to check out. There are a lot of murals in Tampa but here are 6 of our favorite murals to experience this weekend, and some in-depth information on the curators and businesses that they are found in, on, or next to.
One: Artist: Daniel Barojas
Title: Pondering on the Planes of Perception
Location: Grass Roots Kava House (on the wall on Gidden Ave)
Stop by Grass Roots Kava and try some Kava or Kratom!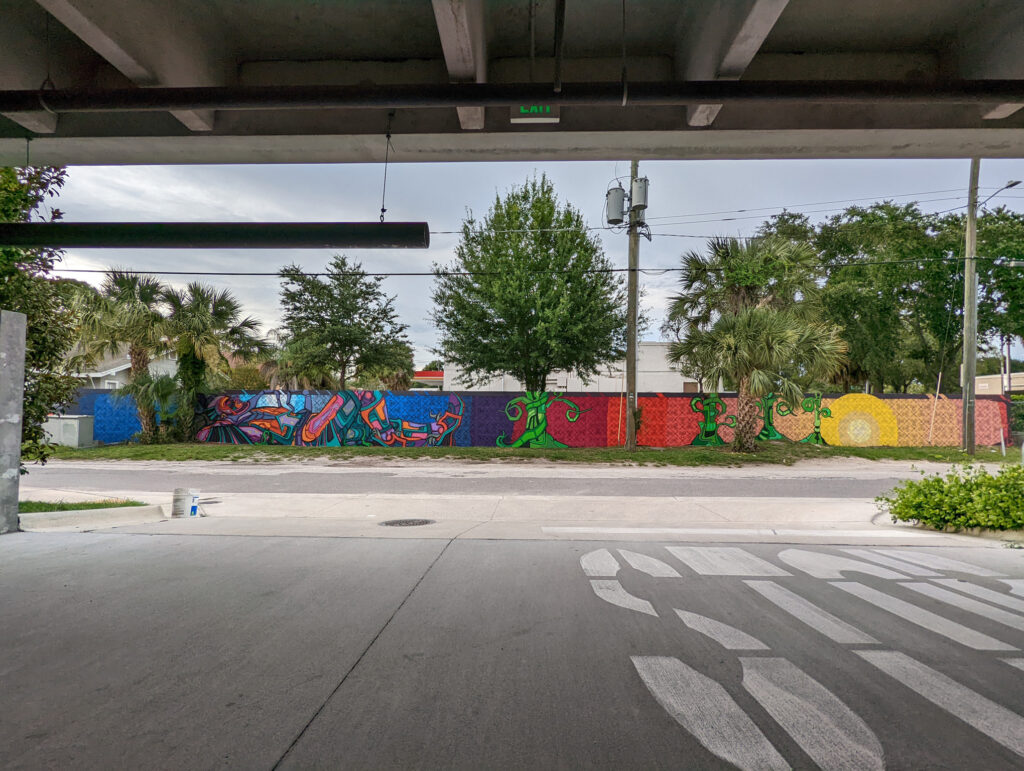 This mural is a tribute to the connections and realms that lay beyond our cognition.
It features a being created from shapes in my visual language that is taking a moment to enjoy, relax and connect. Dedicated to the seekers that sense something else out there.
The pattern features the "Triskele" or Triskelion" which is an ancient Celtic symbol, what resonates with me are some of the multiple attributes given to the symbol and the 3 spirals.
Past – Present – Future
Earth – Water – Sky
Life – Death – Rebirth
But my favorite attribute is the representation of 3 worlds:
Spiritual – Physical – Celestial
Read more on r5's portfolio website:
Part of Tampa-Walls mural festival
Worldwide-Walls is a mural initiative that has created hundreds of murals worldwide since its inception in 2010.
Two: Beau Stanton
Location: Armature Works
You have probably seen this mural by Beau Stanton in Armature Works and maybe didn't realize it was a Beau Stanton. How to find it – go into Armature works and look right across from Graze 1910.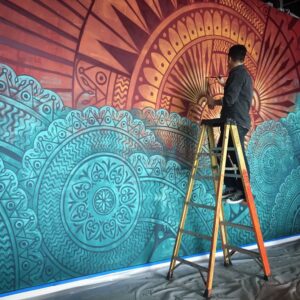 This mural was curated by Cass Contemporary in 2017.
Three: BASK Play Nice Tampa
Location: Deputy Kotfila Memorial Dog Park
You may have seen some of the parts of the Stay Curious Mural in Downtown Tampa created by Tes One, Bask, and Vitale Brothers, but did you know of this BASK mural in Channelside? St. Pete native Bask shows love to Tampa with this Tampa themed mural underneath the expressway.
"With Play Nice Tampa, you will see his multi-layered signature technique and find a bold mural that can be viewed in parts or in the whole with wall and columns making a broad, sweeping expression of art. Prior to the street art and pocket park, this space under the Selmon Expressway was just an underpass with dirt and grime. Thanks to the vision of our architects, engineers, and leadership, this space is now a place to come together and enjoy a shaded downtown park."
Learn more about this project at Tampa-xway.com
Four: Tristan Eaton Evangeline's Feast
Location: Bern's Steak House
This mural on the side of Bern's Steakhouse in South Tampa was completed in 2016 by Los Angeles based Tristan Eaton. Eaton is a spray can control master who was also half of the mind behind the Kid Robot Dunny – one of the most popular "Urban Vinyl Toys" – and shout out to Strange Cat Toys, if you're interested in "vinyl collectibles."
The Evangeline's Feast mural was aligned and curated by Cass Contemporary in South Tampa.
Five: Pichavio – Inside of the Epicurean
Location: Epicurean Hotel Autograph Collection
Title: Bacchus, the Roman God of wine.
What is the best way to describe how to find this mural, go into the Epicurean, and look for it? The Epicurean is directly accross from the Tristan Eaton mural so that's like – 2 for 1. Those are the only clues we'll give you. The famous Spanish duo has a piece in Tampa, and it's hard to find. The piece was commissioned by CASS Contemporary.
Six: Trav MSK at Midtown
Location: Midtown Tampa
Title: "Immersion"
Lesli Marshall is a fabulous curator, and artist, and she's to thank for the amazing art at Midtown Tampa. This little hidden gem of outdoor art is pretty incredible, but for the sake of this scavenger hunt – we're only going to tell you about the TRAV MSK piece, but it's surrounded by world class artists – we'll save a complete list of all of the art at Midtown for another article… Or… you can always book one of our bike tours and we'll go down the rabbit hole of all things Tampa Art.
If you hit all of these murals, and DM us @mergeculture on instagram a photo of yourself by each one, we'll put you in a drawing to win a print by Sentrock, Lilipore and Birdcap.
Want to learn more about Tampa Murals, and the stories behind public art? Take our bicycle tour powered by Culture Tours, you can buy tickets here:
Culture Tours Bicycle Mural Tours: Culture Tours Bicycle Tour Tickets
Interested in a mural for your building?
Mergeculture is the curatorial partner of CLRTY Agency. Are you interested in a mural for your building? Get in touch with our team, we have a network of over 20,000 artists to fit absolutely any project.