Connect through Art in Culture in Tampa with these Four fantastic Art exhibits in Tampa
Have you seen your friends in a while? What about organizing a group trip to some of these incredible exhibits in Tampa? Here are four art exhibits to see in Tampa the month of September, 2023.
1. NATIVE AMERICA: IN TRANSLATION
USF CAM
August 25 – December 1, 2023
USF Contemporary Art Museum
EXHIBITION HOURS + ADMISSION // Special Hours: August 25th 6:30-9pm. Normal Hours: Monday-Friday 10am-5pm;
Native America: In Translation assembles the wide-ranging work of nine Indigenous artists who pose challenging questions about identity and heritage, land rights, and histories of colonialism. Probing the legacies of settler colonialism, and photography's complex and often fraught role in constructing representation of Native cultures, the exhibition includes works by lens-based artists offering new perspectives on Indigenous identity, reimagining what it means to be a citizen in North America today.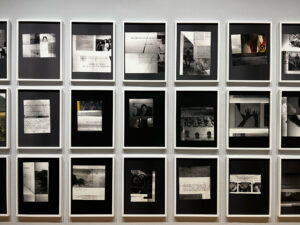 Read more at IRA | USF Contemporary Museum of Art »
---
2. THROW THEM BONES ON THE GROUND
AUGUST 17 – OCTOBER 12, 2023
TEMPUS PROJECTS :: THROW THEM BONES ON THE GROUND :: a group exhibition exploring themes of identity and perseverance in light of the current political climate of local and state politics. The exhibition fortifies Tempus Projects' identity as a safe space for all artists and art professionals, dedicated to amplifying the voices of artists from an inclusive range of backgrounds and life experiences. Catalina Cheng | Chantel Foretich | Kalup Linzy | John Murdock
---
3. It's My Party and I'll Cry if I Want To
1624 E. 7TH AVE., YBOR CITY, 2nd Floor
See open hours for this Exhibit:
Contact the Gallery for appointments or clarification.
OPENING RECEPTION | THURSDAY, SEPTEMBER 7, 2023, 6–9PM
OPEN HOURS | SUNDAY, SEPTEMBER 10, 2023, 11AM-5PM
OPEN HOURS | THURSDAY, SEPTEMBER 14, 2023, 6–9PM
OPEN HOURS | SUNDAY, SEPTEMBER 17, 2023, 11AM-5PM
CLOSING RECEPTION | THURSDAY, SEPTEMBER 21, 2023, 6–9PM
In their debut curatorial endeavor, guest curator Gretchen McCloy (b. 2001, Clearwater, FL) assembles contemporary tableware from fourteen artists working in ceramics. An installation in the form of a table set for a dinner party, It's My Party and I'll Cry If I Want To is a celebration of community and inclusivity, all the while blurring the line between craft and art, exhibition design and table-setting, function and pure aesthetics.
Featured artists include Maggie Adams, Yael Braha, Kyra Connolly, Tucker Claxton, Fairbrother, Cort Hartle, Kero Johannes, Andrew King, Taylor A Mezo, Dominique Ostuni, Dakota Parkinson, Naomi Peterson, Amy Sanders, and Finn Schult
---
4. Inner Dimensions – Carlos Pons & Gabriel Berrios
Mergeculture Gallery
1544 N Franklin Street, Tampa Florida 33602
On Display until October 15th, 2023.
See this exhibit by appointment: Ph: ‪(813) 472-7742 or Wednesday nights from 7pm – 10pm for Mergeculture's Art Night.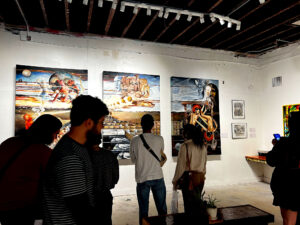 Explore the Inner Dimension of the mind with large scale paintings by Carlos Pons and Gabriel Berrios. The pair display a dichotomy of mind-bending acrylic paintings that peer into the inner dimensions of the human psyche.
About Carlos Pons:
Carlos Pons is a Tampa-based artist who primarily paints large-scale murals and acrylic paintings themed around the inner dimensions of the mind and psychedelic connecting themes.
Carlos Pons, a burgeoning talent from Tampa, Florida, immerses viewers in the enigmatic realms of the subconscious through his large-scale surrealist creations. His art resonates with the spirit of urban contemporary expression, weaving psychedelic themes into his pieces.
Drawing inspiration from the vibrant interior of the realms of thought, Pons' works evoke a sense of wonder and introspection, blurring the lines between reality and imagination.
As a large-scale muralist, Pons' work can be seen on many walls throughout Tampa.Pons' large-scale acrylic paintings are a testament to the power of artistic expression to transcend boundaries and captivate the soul.
About Gabriel Berrios
Gabriel Berrios is a tattoo artist and acrylic painter based in the Tampa Bay Area. The artist intertwines elements of cubism and contemporary surrealism. His pieces evoke a captivating fusion of bold lines, rendered elements shaped by slight influences of cubist masters, where figures with multiple eyes and abstract forms seamlessly bridge the gap between traditional and modern artistic influences in the New Contemporary space.